10月18-23日,世界客车博览会在比利时首都布鲁塞尔展览中心举办,该展是由世界客车联盟组织的专业客车工业博览会,创办至今已有46年的历史,是目前全球规模最大、历史最悠久的专业客车展。本次展会全新的举办城市、全新的展馆,都让其备受关注。

On October 18th-23rd, Busworld Brussels 2019 was held in Brussels Expo. The event, a professional bus expo organized by BAAV, has a history of 46 years. At present, it is the world's largest and oldest bus expo. With new hosting city and exhibition hall, the event is attracting greater attention this year.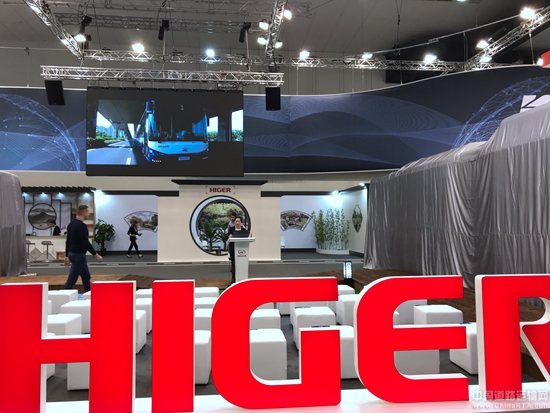 作为中国客车在海外的优秀代表之一,苏州金龙海格客车一直重视海外市场的开拓。本届展会上,海格携四款明星车型亮相,8.5米纯电12米纯电双箭齐发,展示"中国智造"硬实力。

As one of the most excellent representatives of China-made buses, HIGER has always given emphasis on overseas market. At Busworld Brussels 2019, HIGER will exhibit four star models, including the 8.5m pure electric bus and 12m pure electric bus, which have been released at Higer press conference, presenting the hardcore strength of China's intelligent manufacturing.

此次是苏州金龙海格客车第二次参展比利时世界客车博览会,828平米的苏式展台、独具匠心的产品发布会、做工精良的展车,无不展示着海格深耕海外市场的决心与硬实力。当地时间10月17日下午15点30分的产品发布会上,海格两款纯电公交揭幕亮相,苏州金龙海格客车董事长陈笃廉致辞,海外销售公司总经理姜海峰对海格全系纯电产品进行了介绍。海格用近6年的时间,经过一系列的调研、认证等,完成了全系产品的布局。面对未来世界对节约能源、环境改善快速增长的需求,海格准备好了。

This is the second time for HIGER to exhibit in Busworld. The 828m2 Suzhou-styled booth, the unique press conference, and the exquisitely-made buses demonstrate the determination and hardcore strength of HIGER to explore the overseas market. At the press conference at 15:30 pm local time on October 17th, HIGER unveils two electric buses. Higer Bus Chairman Chen Dulian makes a speech, and then Higer Overseas Sales Company GM Jiang Haifeng makes presentations about all-series electric products of HIGER. In nearly six years, HIGER has completed all-series products after sufficient surveys and certifications. HIGER is ready to meet the demands of future world for energy conservation and environmental improvement.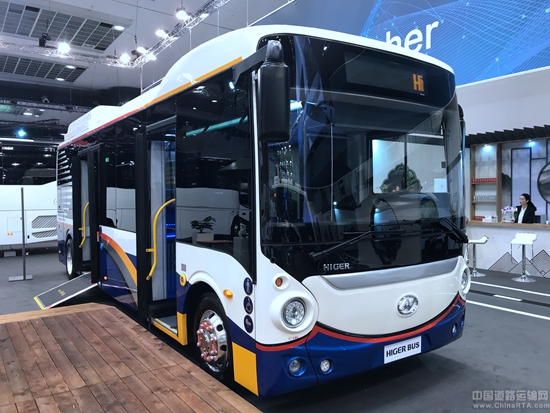 此次参展,苏州金龙海格客车带来了4款明星车型。其中E8是定向开发、专为支线或卫星城接驳打造的纯电动公交车,续驶里程可达220km。该款车造型新颖,采用前独立悬架设计,提升通过性和舒适度;短车身大轴距,低地板面积占乘客区面积的80%,极大提高乘客空间和数量;司机独立驾驶区、VDV标准的独立表头,让驾驶体验如沐春风;整车LED灯具,真正的实现低能耗,长寿命。

HIGER exhibits four star models. Among them, E8 is a pure electric bus specially developed for the feeder line or satellite city connection. The driving range can reach 220km. The bus is novel in shape, which adopts front independent suspension to improve the passing ability and comfort; with incredible 5.8m wheelbase, the low floor area accounts for 80% of the passenger area, thus greatly improving the passenger space and quantity; the independent driving area and independent instrument according to VDV make the driving experience extremely comfortable; LED lamps on the entire vehicle body truly realizes low energy consumption and long life.

海格E12是全新造型12米纯电动公交巴士,搭载西门子电机, CATL电池,续驶里程可达300km。三门低地板设计,大大提高了乘客空间和进出便利性;新款内饰,高顶造型和铝板材质,车内通透式设计且利于保洁;独立表台及司机区域;水冷电池,适用于各种气候环境市场,具有专用空调冷却功能,保证电池温度一致,电池寿命提高30%;整车减重500公斤,每年节省能耗3%。

E12 is a new 12m pure electric bus equipped with Siemens motor and CATL battery. The driving range can reach 300km. Three-door low floor design greatly enlarges passenger space and convenience; with new trimmings, high-top shape and aluminum material, the interior space adopts the all-through design, easy to clean; the independent instrument panel and driver's area; water-cooled battery is suitable for various climate environments, with special air conditioning and cooling function to ensure the consistent battery temperature, thus improving battery life cycle by 30%; comparing to the previous generation ,this bus cut the weight by 500 kilograms, improving the efficiency by 3%.

海格H9多用途中巴,采用欧洲主流动力总成,维护便利;全承载车身结构,不仅提高了整车被动安全,还让整车减重,有效降低了油耗;搭载智能头灯、酷炫内饰灯、豪华座椅,为乘客带来奢华的乘坐感受;欧洲审美外观造型设计,满足欧洲各类客户需求。为了提高主动安全,该车还配置了AEBS、EBS、ACC系统。

H9 multi-purpose medium bus uses outstanding European powertrain that is easy to maintain; the monocoque structure not only improves the passive safety of the vehicle, but also reduces the weight and effectively lowers down the fuel consumption; equipped with smart headlights, stylish trimming lights and luxurious seats, providing passengers with luxurious feeling; the European aesthetic appearance design meets the needs of various European customers. In order to improve active safety, the vehicle is also equipped with AEBS, EBS and ACC.

海格IC12 是12.3米城际客车,欧化外观造型设计,点缀银色侧装饰飘带,简约而动感;最大载客数可达67人,左舵、右舵可选;标配前乘客门,可选装中置第二乘客门或应急逃生门;车身采用全承载结构;欧美主流底盘总成,可靠性高,维护保养便利;配置冷暖集成控制空气调节系统、中空玻璃,充分保障乘坐舒适性;标配全LED头灯,发光效率高,能耗低。匹配ABS、EBS、ESC等安全系统,满足ECE法规要求。

IC12 is a 12.3m intercity bus. The European appearance decorated with silver streamers makes the vehicle look minimalist and dynamic. The maximum passenger capacity reaches 67. Either LHD or RHD is available. The front passenger door is standard, and the second passenger door or emergency door as an option. Monocoque bus body structure is applied, European and American mainstream chassis assembly features high reliability and convenient maintenance; the vehicle is equipped with integrated air-conditioning control system and insulating glass to fully guarantee the ride comfort; the full LED headlights provide high luminous efficiency and low energy consumption. Equipped with ABS, EBS, ESC and other safety systems, the vehicle meets ECE regulations.

苏州金龙海格客车一贯重视海外市场的发展,从2004年开始出口至今,已累计出口客车近5万台,出口全球120多个国家和地区,海外服务站总数达115个,拥有200多人的海外营销团队,能够快速响应世界各地的客户需求。

HIGER always attaches importance to the overseas markets. 50,000 units bus &coach have been delivered to more than 120 countries and regions around the world since 2004 when the first export was made. Higer now has 115 overseas service stations and overseas marketing team with more than 200 members, who can respond quickly to customer needs around the world.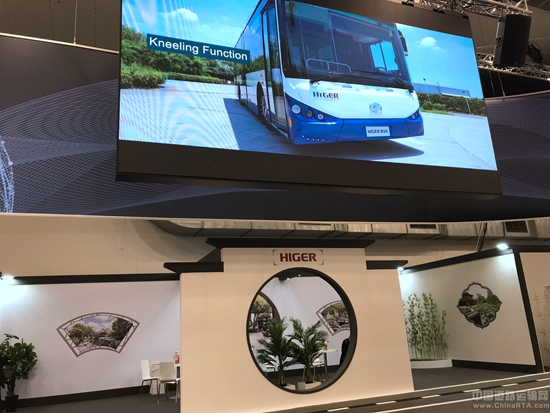 欧洲作为高端客车的重要市场,一直以来是海格的必争重点关注市场。由于欧洲城市客运车辆目前以柴油车为主,行驶里程长、燃料消耗量大,是城市大气主要污染源之一。推广节能与新能源客车,成为大中城市节约能源和改善空气质量最有效的途径之一,零污染、零排放的纯电动客车也成为欧洲市场改善空气质量的重要选择之一。

HIGER has always focused on European market, a major market of high-end buses. At present, most city buses in Europe, featured by long driving range and high fuel consumption, are powered by diesel engines, which becomes one of the major sources of air pollution in cities. Promoting energy-saving and new energy buses has become one of the most effective ways to save energy and improve air quality in large and medium-sized cities. Pure electric buses with zero-emission have also become one of the important choices to improve air quality in the European market.

2016年,海格超级电容公交车出口塞尔维亚,这是中国首次向"一带一路"沿线国家出口超级电容客车,创下欧洲乃至全球首个超级电容纯电动公交车商业化运营先例。随着海格超级电容公交车相继打开塞尔维亚、以色列、保加利亚、意大利、奥地利等"一带一路"沿线国家市场,并在中东欧国家市场初具规模,中国新能源汽车在"一带一路"沿线国家的推广范围得到有效扩大。

In 2016, HIGER Ultra-capacitor Bus was exported to Serbia. It is the first time that China exported Ultra-capacitor buses to countries along the Belt and Road, setting a precedent for the commercial operation of the Ultra-capacitor bus in Europe and even the world. Since then, HIGER Ultra-capacitor bus has entered the countries along the Belt and Road, such as, Serbia, Israel, Bulgaria, Italy, Austria, etc., taking initial shape in the central and eastern Europe market. HIGER is expanding its market in countries along the Belt and Road.

2019年4月,苏州金龙海格客车174辆公交车出口塞尔维亚签约仪式在塞尔维亚首都贝尔格莱德举行,合同总金额超三亿元,是中国客车出口塞尔维亚的最大批量订单,也是中国客车出口欧洲市场历史上单一合同最大订单。

In April 2019, the signing ceremony was held in Belgrade of Serbia to export 174 HIGER buses to Serbia. The total contract value exceeded 300 million RMB, making it the largest order for Chinese buses to export to Serbia. It is also the largest order of single contract to export Chinese buses to the European market.

除整车出口外,海格在KD出口方面,在行业中也处于领先地位。目前,中国客车出口仍以整车为主,大多数的中国自主品牌的KD出口做不到10%。2018年,阿尔及利亚KD出口超过1000辆,俄罗斯KD出口近500辆,KD出口占海外出口的29%。海格在委内瑞拉、俄罗斯、阿尔及利亚、尼日利亚、马来西亚、越南等国家都有KD工厂。

In addition to CBU export, HIGER takes a leading position in the industry in KD export. At present, most Chinese brand bus export is still dominated by CBU export, and the KD export of most Chinese bus brand is less than 10%. In 2018, more than 1,000 buses were exported to Algeria in KD form and nearly 500 buses were exported to Russia in KD form, with KD exports taking 29% in overseas export of HIGER. HIGER has KD factories in Venezuela, Russia, Algeria, Nigeria, Malaysia, Vietnam, etc.

未来,海格将在新能源客车市场及传统客车市场上持续发力,争取获得持续增长。苏州金龙海格客车已做好准备迎接挑战,抓住机遇,再上新台阶。

In the future, HIGER will continue to expand in the new energy bus market and the traditional bus market, and strive for sustained growth. HIGER is ready to meet challenges and seize opportunities for a higher level.